Cable Certification Standards
These standards define three types of performance requirements: components, cable and cabling. Component standards define the performance of the jacks/outlets and plugs (connectors) for each performance category. Today we have performance standards for category 3, 5e, 6, 6A, 7, 7A, 8.1 and 8.2. These standards are what the manufacturers of components use to design and test their products. When a person purchases a cat 6A outlet they assume the manufacturer guarantees that it provides the performance defined by ISO or TIA for cat 6A.
Cable standards define the performance of the bare cable with no connectors attached. Just as with the component standard, we assume a box of cable marked cat 6A meets the performance requirements of the ISO and TIA standards for cat 6A.
The component and cable standards are used by manufacturers of those components for design and testing. The third standard mentioned above, Cabling, is what field engineers use for testing installed cabling. The cabling standard defines the performance of the completed links and channels when connectors and cable are installed in the field. Field testing is critical because the link and channel performance is what determines whether the networking equipment will operate properly and provide the advertised bandwidth.
Setting Up Cable Certifiers
When setting up a certifier to test cabling, the desired performance standard is selected as well as the configuration of the cable being tested. The two options for certifying commercial cabling are channel and permanent link.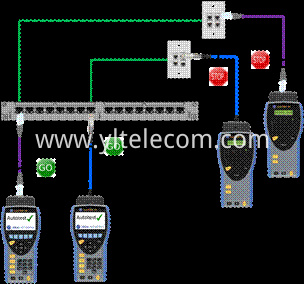 Channel tests consist of the installed cabling plus the patch cords that connect the cabling to the networking equipment. In the diagram below, the installed cabling, called the permanent link (PL) is shown in green and the patch cords are shown in purple. The measurement begins about 2 cm from the channel adapter of the certifier and includes the cable of the patch cord and the connector that mates to the patch panel and work area outlet. The connection at the channel adapter is not included in the test. The black lines and Stop/Go symbols indicate the portions of the cabling being tested.
When testing a permanent link (PL) only the installed cabling (green in the diagram) is tested using special PL adapters on the certifier. Here the test includes the connection at the patch panel and work area outlet, plus about 2 cm of the PL adapter cord. This is the most common test performed in the field because it is a test the components that the installer is responsible for and not patch cords which the end-user of the network can change and invalidate the certification test results.